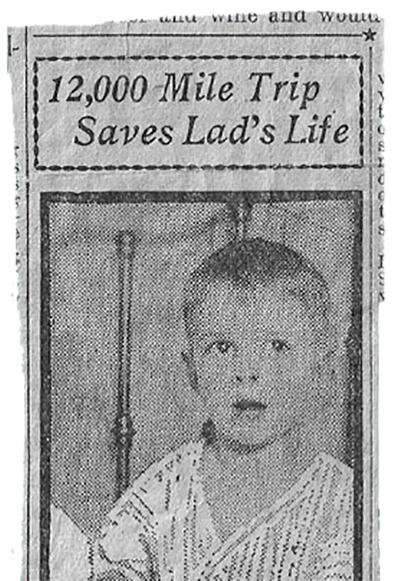 12,000 Mile Trip Saves Lad's Life
Following my meeting with Joseph Burke's family in the Mütter Museum in September 2011, I received an astonishing and moving account of a five year old boy who traveled with his missionary family on a 24 day trek from India to Philadelphia after the boy had gotten a glass bead stuck in his trachea. Ray Rice wrote:
"I have a story, rather I should say that my family has a story. Needless to say I wouldn't be here without Dr. Jackson. This is my grandmother's narrative about the journey of my father's family. I remember that Dr. Jackson sent a Christmas card every year to my dad, Thomas Rice."
One of my favorite parts of this hair-raising tale appears late in the manuscript when Thomas' mother, Mrs. Rice, describes meeting Jackson as a "deeply moving spiritual experience" and how "the sincere humility and kindliness of the truly great was evident in his every movement and word."
» Click here to read the manuscript of Thomas Rice's trip.