FEATURES
A (Low)Keynote in pandemic times for NonfictioNow  conceived, composed and recorded in Providence, RI, and transmitted to Wellington, New Zealand (December 2021).
PAUSE REWIND PLAY is a digitally-mediated love-note, to bridge community, trace movement and investigate pause. Fellow Keynoters were Ngahuia Te Awekotuku and Behrouz Bouchani.
---
Lecture
Kirkus Reviews Author Video Feature, "Mary Cappello Reimagines the Lecture"
"Mary Cappello's Lecture, first in the Undelivered Lectures series from Transit Books, explores the art of the lecture in new ways, prioritizing energy, creativity, and the true joy of learning."
---
Buffalo Trace: A Threefold Vibration
bookworm with Radio Host, Michael Silverblatt, KCRW, September 8, 2018
A conversation with Mary Cappello, James Morrison, and Jean Walton
» Listen to the Interview
"I read Buffalo Trace in a state of a kind of ecstasy…all I can say is that if you are a person of mind, of sensibility, and letters, you will be reminded of something that was once infinitely precious, and that could be precious again." –Michael Silverblatt
---
Life Breaks In: A Mood Almanack
Prose and Politics/Adam Phillips, Mary Cappello
an essay by Molly McQuade in The Yale Review
The Yale Review — October 2017
» Read the Essay
---
What is a Mood and Where Can it Take You? Exploring the Shades of Subjective Experience
a conversation with Mandy Godwin for HELEO: In-Depth Conversations with the World's Great Thinkers
HELEO — November 21, 2016
» Read the Interview
---
A Playlist/Essay For Large-Hearted Boy
BOOK NOTES as accompanist to Life Breaks In
Large-Hearted Boy — October 21, 2016
» Read the Essay and Listen to the Playlist
---
Swallow
Down the Hatch and Straight Into Medical History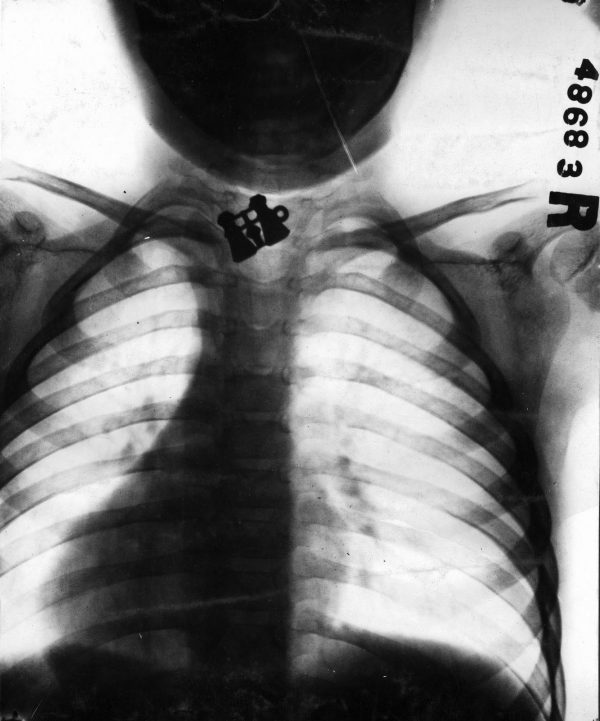 by Amanda Schaffer
The New York Times — January 10, 2011
» Read the Article
---
13 Real and Imaginary Things People Have Swallowed
Mary Cappello's commentary on photographs from Swallow
The Huffington Post — January 22, 2011
» See the Essay
---
'Swallow': A History of Ingestion of Foreign Bodies
msnbc.com — January 21, 2011
» See the Slideshow
---
"Swallow": The strange things people swallow
by Thomas Rogers
Salon.com — December 18, 2010
» Read the Interview
---
Meditations on the writing of Swallow
Mary Cappello's guest author blog
Powells.com — January 10-14, 2011
• Cabinet of Curiosities: Repository of Interest
• Biography or Biographeme?
• Unsolved Mysteries
• Writing as a Form of Friendship:
Finding Friends in Unlikely Places
• Rose and Rolf Diamant: A First Person Account
---
The chalk talks of Dr. Chevalier Jackson
by Austin Kleon
tumblr.austinkleon.com — May 14, 2012
» Read the Article
---
Thousands of Swallowed Objects Form Curious Collection
by Marc Hartzman
Aol News — April 27, 2011
» Read the Article
---
More Than a Frog in the Throat:
Safety pins in the esophagus // Buttons in the stomach // Sewing needles in the bronchi // All extracted and kept by one curious doctor.
by Mary Cappello
ProTo magazine*— Spring 2011
» Read the Article
*proto, a prefix of progress, connotes first, novel, experimental. Alone, it conjures an entire world of the new: discoveries, directions, ideas. In taking proto as its name, this magazine stakes its ground on medicine's leading edge–exploring breakthroughs, dissecting controversies and opening a forum for informed debate.
---
'Swallow …' tells story of a doc who retrieved foreign objects from patients
by Molly Eichel
Philadelphia Daily News — April 30, 2011
» Read the Article
---
What are Writers Reading?
Writers Read — February 25, 2009
» Read the Article
---
Chevelier Jackson
by Christine Quigley
Quigley's Cabinet — February 3, 2011
» Read the Blog Post