Sunday, January 15th, 2017, 2-4 pm
"Writers Resist"
DiStefano Lecture Hall, Antone Academic Center
Salve Regina University
Newport, RI
A nation-wide initiative of PEN/America and Erin Belieu calling on
writers post-election to foster community, the power of art, activism
and inspiration as we work together to preserve our civil liberties.
Hosted by Jen McClanaghan
---
Thursday, February 23rd, 2017 @ 7 pm
Book Culture
A Mood Room Evening with Mary Cappello, Kristin Prevallet,
Dawn Raffel, and Elaine Sexton
Book Culture on Columbus (at 82nd)
450 Columbus Ave
New York, NY 10024
---
Friday, March 24th, 2017, 4-5 pm
Ohio State University
Columbus, OH
The OSU Humanities Institute
165 Thompson Library
The American Academy in Berlin Alumni Lecture Series
Hosted by Paul Reitter
---
Wednesday-Friday, April 5th-7th, 2017
Ohio University Spring Literary Festival
Athens, OH
Public Reading and Lecture
Sarah Shun-Lien Bynum, Mary Cappello, Tom Sleigh, and Colm Tóibín
Hosted by Ohio University's Graduate Program in Creative Writing
---
Saturday, April 15, 2017, 11-1:30 pm
"Working and Playing with Psychoanalysis"
With Beverly Haviland (Moderator), Suzanne Stewart-Steinberg, Noha Sadek, Steven Soldz, and Maggie Zellner
Brown University
Pembroke Hall, Room 202
Hosted by the the Boston Graduate School of Psychoanalysis, and the Consortium for Psychoanalysis in Higher Education
---
June 1-4, 2017
NonfictioNow, Reykjavik, Iceland
"There is nothing to grasp": A Reading and Discussion
with Lance Olsen, Dawn Raffel, and Gregor Hens
AND
The Evanescent and Disposable Essay: Balancing Orality
and Documentary in Modern Nonfiction Writing
John Proctor, Panel Chair
With Matthew Gavin Frank, Kim Dana Kupperman, and Sarah Vap
---
Tuesday, June 6th, 2017, 6 pm (18:00 BST) doors open;
event begins @ 6:30 (18:30 BST)
London, England
Mood Shifts: A Sonic Repertoire
The Horse Hospital (Providing space for avant garde and underground media since 1993)
Hosted by Sarah Chaney and The Queen Mary Centre for the History of Emotions
---
Tuesday, June 28-29th, 2017
Vermont College of Fine Arts (VCFA), Visiting Writer
Evening Reading, June 28th
Morning-time Informal Talk with Q and A, June 29th
---
Upcoming in later summer 2017: an Illustrated Reading at the LC Bates Museum, Hinckley, Maine
---
2016
Tuesday, November 1st, 2016, 5:30-7 pm
"Of Mood: An Atmospheric Performance"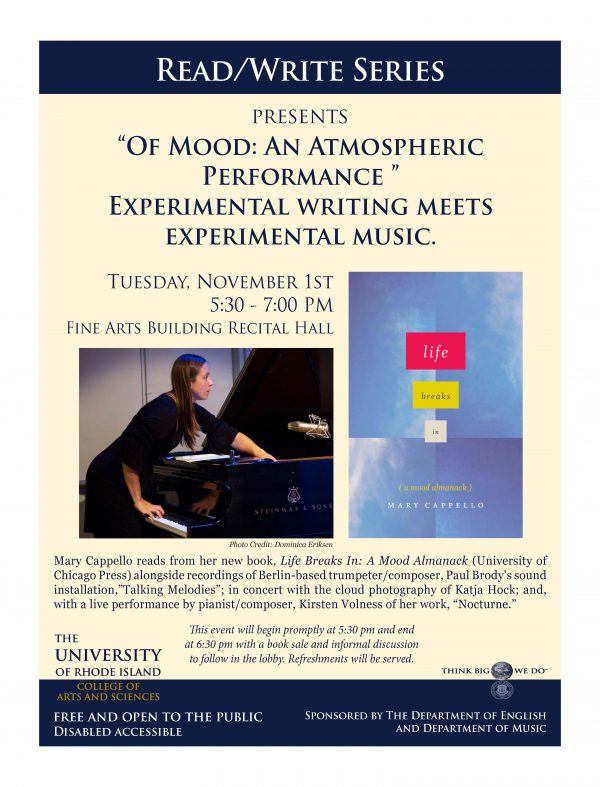 Experimental writing meets experimental music.
Mary Cappello reads from her new book, Life Breaks In: A Mood Almanack (University of Chicago Press) alongside recordings of Berlin-based trumpeter/composer, Paul Brody's sound installation, "Talking Melodies"; in concert with the cloud photography of Katja Hock; and, with a live performance by pianist/composer, Kirsten Volness of her work, "Nocturne."
Fine Arts Building Recital Hall
Kingston, RI
Discussion, book sale, signing and reception
Hosted by URI English Department Read/Write Series
---
Sunday, November 6th, 2-4 pm
Bending Genre: Writers in Conversation
Providence Public Library
Panelists, MT Anderson; Mary Cappello; Dawn Paul
Moderator: Kate Wells, PPL Librarian, Rhode Island Collection
Hosted by: HiFi (Historical Fiction) Collaborative
November 8th ELECTION DAY
---
Saturday, November 12th, 2106, 6 pm
Publicly Complex Reading Series
With poets, LeeAnn Brown and Serena Putterman
ADA Books, 717 Westminster Street
Providence, RI
Hosted by: Kate Schapira
---
Wednesday, November 16th, 2016 @ Noon
Alternative Taxonomies: Shifting Your Optic, In Theory and Practice
Reading and Workshop
Warren Alpert School of Medicine
Brown University
Room 270
Hosted by: Teresa Schraeder, MD
Mary Cappello will perform an illustrated reading from her new book, Life Breaks In: A Mood Almanack (University of Chicago Press) to get us in the mood for thinking about what the ordering systems of our disciplinary training make it possible for us to see, and what they bar from discourse altogether. Cappello will provide writing prompts to help cultivate a shift of optic in your work as health professionals toward the cultivation of hearing the unheard, or seeing the unseen in daily practice and daily life. Bring your own questions about writing as (a doctor or patient) or student-in-training.
---
Thursday, November 17, 2016, 4 pm
Synesthesia for Orphaned Boys: The Mood Rooms of Charles Daniel Hubbard
An illustrated reading featuring an extended meditation on the "mood rooms" (aka habitat dioramas and themed museums) created by Guilford originals, Charles D. Hubbard (1876-1951) and George W. Hinckley (1853-1950). Cappello's literary re-creation of painter/teacher Charles Daniel Hubbard's uniquely fashioned worlds is based on research she carried out in the Guilford Free Library Edith B. Nettleton Historic Reading Room and via the materials in the holdings of the Guilford Keeping Society. Copies of Life Breaks In–which features a color gallery of photographs by Rosamond Purcell set in the LC Bates Museum–will be available for sale and signing at the event.
The Guilford Free Library, Guilford, CT
---
Tuesday, December 20, 2016, 7:30-9:00 pm
Point Street Reading Series                                                                                          
with Ann Hood, Jason Diamond, Holly Robinson, and Michael Ruhlman
3 Davol Square
Providence, RI 02903
Hosted by Robin Kall
---
ARCHIVE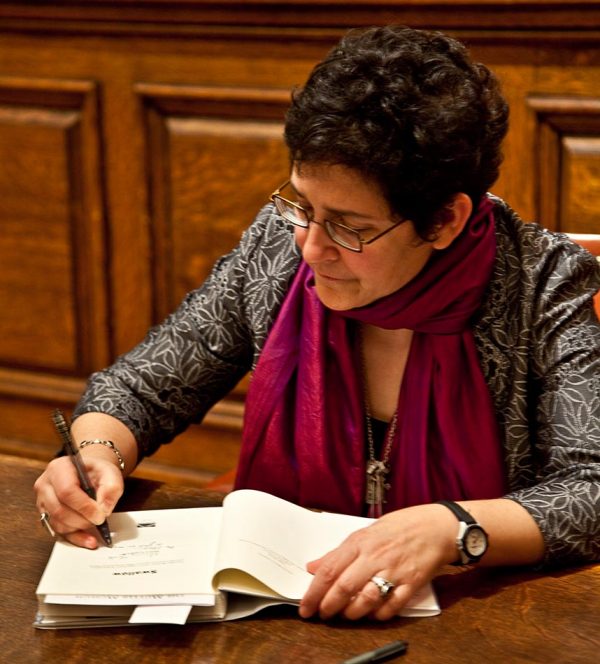 May 6, 2016, 8 p.m.
Mood: Aesthetic, Psychological and Philosophical Perspectives
An Interdisciplinary Two-Day Conference
University of Warwick, England
Keynote Reading, Of Mood: An Atmospheric Reading
Followed by exhibition by Dr. Katja K. Hock, Fine Art,
Nottingham Trent University, "A Space for the Unspeakable"
---
May 7, 2016
5 p.m.
Closing Roundtable with Fellow Keynotes, Giovanna Colombetti, Hagi Kenaan, Hans Ulrich Gumbrecht, and Dennis Elam
Hosts: Birgit Breidenbach and Thomas Docherty
---
December 2, 2015
8 p.m.
with David Lazar
"The State of the Art of the Essay: A Reading After Montaigne"
TOPICS Bookstore
Berlin, Germany
---
November 30, 2015
7:30 p.m.
"Errant Foreign Bodies" (video with q & a)
ICI Berlin (Institue for Critical Inquiry)
Errans Series
---
November 18, 2015
4 p.m.
"Cloud-Writing"
Graduate Student Colloquium
University of Göttingen
Hosted by Andrew Gross
---
September 24, 2015
7:30 p.m.
"Of Mood: An Atmospheric Reading"
Hotzbrinck Lecture (video & audio)
The American Academy in Berlin
The Hans Arnhold Center
---
June 13, 2015
4-6 p.m.
Writers Behaving Badly
Panel Discussion and Workshop Leader
Writing Memoir: Objects. Sounds. Words.
1st Annual Providence International Arts Festival
Aurora, 276 Westminster Street
Hosted by Hester Kaplan and Taylor Polites
---
March 26-27, 2015
The John and Mary Esposito Visiting Faculty Fellowship in Italian-American Culture and History
U/Mass, Dartmouth
Class Visitations, "Sexuality in Literature"; "Seminar in Multi-Disciplinary Studies"
Public Presentation, March 26th, 4-6 p.m.:
"Improper Documents/Unsung Art: Making Literary Nonfiction from Italian/American Experience"
Hosted by Karen N. Dixon, Assistant Dean of the College of Arts and Sciences
---
March 13, 2015
BYU English Reading Series, Utah
10-11:30 a.m.
Graduate and undergraduate Discussion Session, "Audacity of Form"
12-12:50 p.m.
"Of Clouds and Moods," Reading in the Harold B. Lee Library Auditorium, 1060 HBLL
(video with q &a)
1-1:25 p.m.
Reception and book signing in the Special Collections Classroom
Hosted by Patrick Madden
---
April 8, 2014
The Essay in Public: an all day conference
Granoff Center, Brown University
Hosted by Patricia Ybarra, Martha Elena Rojas, and Wendy S. Walters
---
March 5, 2014
Noon to 1 p.m.
Class Visitation, Brown University, Medical narrative/creative nonfiction
J. Walter Wilson Building, Room 501
Hosted by Kate Schapira
---
March 1, 2014
3-4:15 p.m.
AWP Conference, Seattle Washington
"Lyric Essay as Perversion: Channeling Djuna Barnes"
for "Modernism and the Lyric Essay" with Joey Franklin, Panel Chair;
Lia Purpura, Dinty W. Moore, and David Shields
Room 615/616/617, Washington State Convention Center, Level 6
---
February 27, 2014
10:30-11:45 a.m.
AWP Conference, Seattle, Washington
"Courting the Peculiar: The Ever Changing Queerness of Creative Nonfiction,"with Ames Hawkins, Panel Chair; Barrie Jean Borich; and K. Bradford.
Room 3B, Washington State Convention Center, Level 2
---
May 6, 2013
6-8 p.m.
Experiments in (Medical) Nonfiction: Between Writing and Drawing
Physician as Communicator Series
Warren Alpert School of Medicine
Brown University
Hosted by Teresa L. Schraeder, MD
---
April 27, 2013
10:30 a.m. – 2 p.m.
Archaeology of the Actual: A Creative Nonfiction Studio
Frequency Providence
186 Carpenter Street
---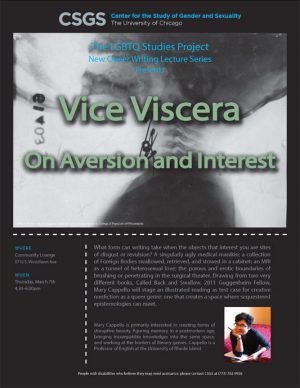 March 7, 2013
4:30 p.m.
Vice Viscera: On Aversion and Interest (An Illustrated Reading)
LGBTQ Studies Series
Center for Study of Gender and Sexuality, "New Queer Writing"
5710 Community Lounge
University of Chicago
Hosted by Lauren Berlant
---
March 1, 2013
4:30 p.m.
Dimmi! Senti!: Sicily as Point of Departure, and Point of Return
A Panel Discussion in Honor of Dacia Maraini, Visiting International Writer/Scholar at the University of Rhode Island
International Womens Day
Swan Hall Auditorium
University of Rhode Island
---
December 9, 2012
Coffee and Conversation with Mary Cappello on Creative Nonfiction
Frequency Providence
182 Carpenter Street
---
November 10, 2012
'To Make the World Foreign Body Conscious': New Discoveries in the Chevalier Jackson Archive
Hasbro Children's Hospital Grand Rounds in Pediatric Otolaryngology
Jane Brown Building
Rhode Island Hospital
---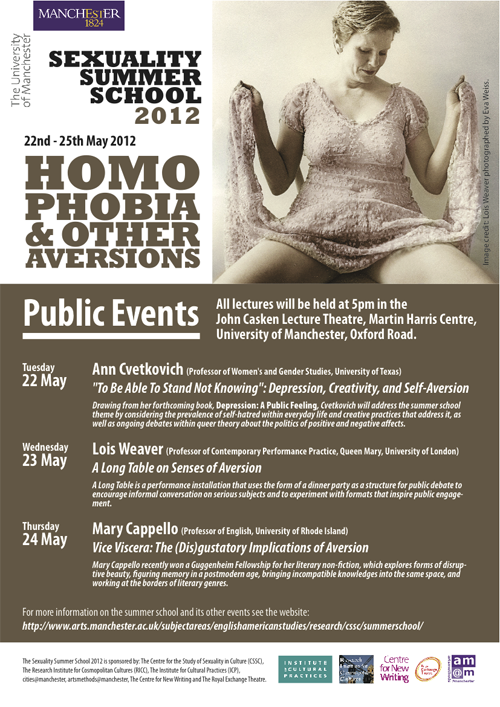 May 22-25, 2012
Sixth Annual Sexuality Summer School (SSS):"Homophobia and Other Aversions"
University of Manchester, England
Fellow presenters Anne Cvetkovitch andperformance artist Lois Weaver
Thursday, May 24th, 5-6:30 p.m., Public Lecture: "Vice Viscera: The (Dis)gustatory Implications of Aversion," Joan Casken Theatre, Martin Harris Center
Friday, May 25th, 9-10:30 a.m., Workshop: "Discursive Autobiography": Writing Against, From, Toward or About
Chair and Discussant: Patricia Duncker, Room: Mansfield Cooper 4.10
Hosted by Jacqueline Stacey
---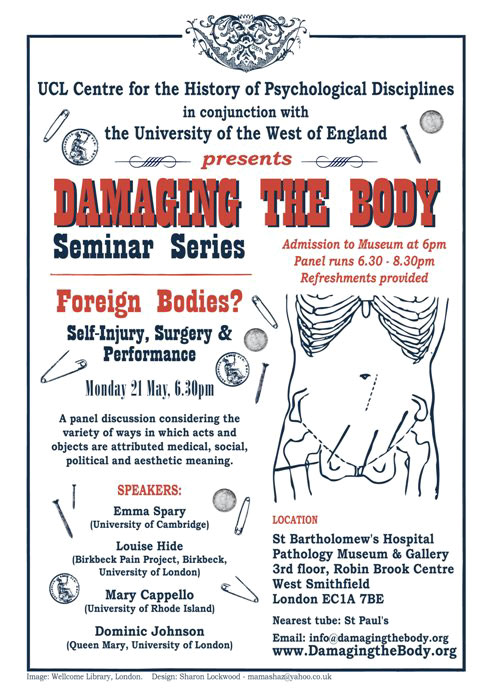 May 21, 2012
6-8:30 p.m.
Foreign Bodies? Self-Injury, Surgery and Performance
A panel discussion considering the variety of ways in which acts and
objects are attributed medical, social, political and aesthetic meaning.
St Bartholomew's Hospital Pathology Museum and Gallery,
3rd floor, Robin Brook Centre, West Smithfield, London
Nearest tube: St Paul's
[Doors open at 6 p.m. for a chance to explore the museum collection, including
a display of foreign body specimens. The panel will run from 6:30-8:30 p.m.
Refreshments provided.]
Hosted by Sarah Chaney
---
May 17, 2012
7:30 p.m.
"Top and Tail Talks": Jean Walton on Peristalsis, Mary Cappello on Swallow
Birkbeck College
Keynes Library of 43 (Room where The Bloomsbury Group used to meet)
Gordon Square
London, England
Hosted by Laura Salisbury
---
"Autobiography of Illness, Biography of Cure"
Clarke Forum for Contemporary Issues
Dickinson College: talk and q and a
Discussion of Autobiography vs. Biography begins at: 1:00:49
Q and A begins at 52:00